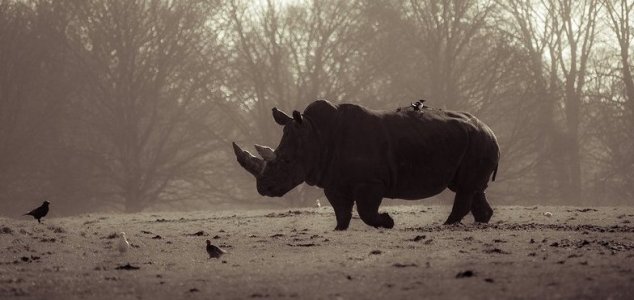 Species such as the rhino could soon go extinct due to poaching.

Image Credit: CC BY 2.0 William Warby
Miniature spy cameras and alarms are to be used in an effort to put a stop to poaching once and for all.
With one rhino being killed by poachers every six hours in Africa, conservationists estimate that these magnificent horned pachyderms could disappear entirely within the next two decades.
Now in a renewed effort to fight back against those responsible however a new British-made system known as 'Rapid' ( Real-time Anti-Poaching Intelligence Device ) could soon be set to turn the tide.
The device, which can be fitted directly on to the animals, includes a video camera, a heart-rate monitor and a satellite-tracking system that can provide real-time feedback to authorities so that when one of them is killed a helicopter can be scrambled immediately to apprehend the culprits.
Footage recorded by the camera could also be used as evidence against the poachers in court.
"We had to find a way to protect these animals effectively in the field - the killing has to be stopped," said Dr Paul O'Donoghue. "With this device, the heart-rate monitor triggers the alarm the instant a poaching event occurs, pin-pointing the location within a few metres."
"Rangers can be on the scene via helicopter or truck within minutes, leaving poachers no time to harvest the valuable parts of an animal or make good an escape."
"You can't outrun a helicopter. Rapid renders poaching a pointless exercise."
The new system is set to begin trials in South Africa near the beginning of next year.
Source: Independent | Comments (8)
Tags: Spy Camera, Rhinoceros, Poaching