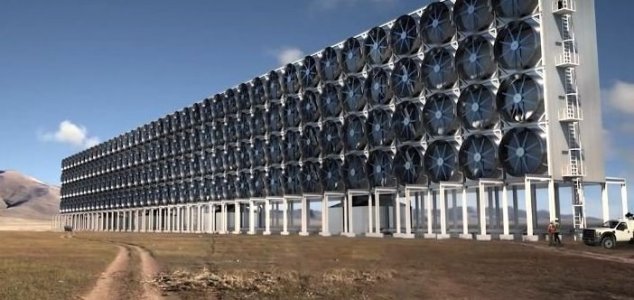 A concept image of a fully built wind wall in action.

Image Credit: YouTube / Carbon Engineering
An ambitious new plan could see carbon dioxide being sucked out of the atmosphere and turned in to fuel.
Canada-based company Carbon Engineering is aiming to not only help reduce the amount of carbon dioxide in the atmosphere but to also turn in to a type of low carbon fuel.
The system, which should prove particularly advantageous in areas such as deserts where planting lots of trees isn't viable, consists of a large wall of fans that suck in the air and extract the carbon dioxide in much the same way as trees do when they capture the gas and turn it in to oxygen.
A video explaining in more detail how the whole thing works can be viewed below.
Source: Popular Mechanics | Comments (15)
Tags: Carbon Dioxide, Fuel