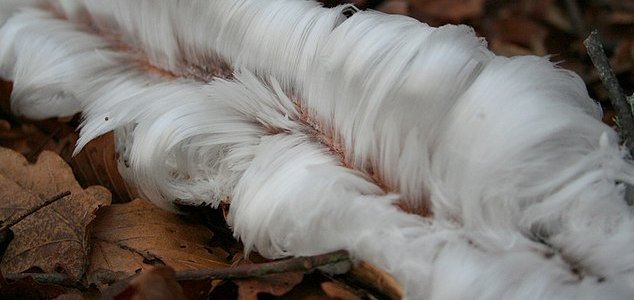 'Hair ice' looks remarkably like actual hair.

Image Credit: CC BY-SA 2.0 Des Colhoun
Scientists believe they have identified what causes thin hair-like strands of ice to form on plants.
At first glance these unusual white strands found on tree branches, roots and other vegetation look very much like hair or fur, but upon closer inspection they are in fact very fine strands of ice.
The exact processes behind their formation have remained a topic of debate for years, but now scientists in Germany and Switzerland believe that they may have finally found the answer.
"When we saw hair ice for the first time on a forest walk, we were surprised by its beauty," said researcher Christian Matzler. "Sparked by curiosity, we started investigating this phenomenon, at first using simple tests, such as letting hair ice melt in our hands until it melted completely."
The key behind the hair ice's formation appears to be certain types of fungus which help promote a process known as ice segregation where cold liquid water continually builds up the ice over time.
The presence of the fungus enables the ice to form in thin strands rather than as an icy crust.
Source: UPI.com | Comments (2)
Tags: Hair Ice