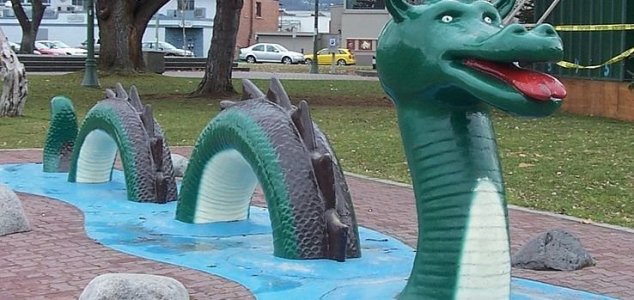 Is there a lake monster in the Harriman Reservoir ?

Image Credit: CC BY-SA 3.0 Hamedog
A six-humped 'monster' has been sighted in the waters of Harriman Reservoir in Windham County.
The Loch Ness Monster is not the only denizen thought to be lurking in the waters of a lake; the US state of Vermont for instance is home to a monster legend of its own - a creature known as Harry.
Talk of the mythical beast was renewed this week after local resident Martin Kasindorf spotted something peculiar in the waters of Harriman Reservoir while he was sitting on the shoreline.
The incident occurred at 2:30 pm on Friday when his dogs started to bark at something. When he followed their gaze out over the lake he saw six distinct humps protruding from the water.
"Each hump was about six inches to a foot apart," he said. "It was a nice sunny afternoon, and the surface of the lake was calm. I could see the water lapping against them."
Keen to get a second opinion he called for his wife to come and take a look at the spectacle.
"At that point, the humps started moving and submerged," he said. "Then a few yards (to the right) I saw something straight, like a log, and brown moving quickly through the water."
"If it was a log, it was a log with a motor on it."
So far no conclusive explanation for the mysterious sighting has been found and Kasindorf has since dismissed claims that what he had seen may have been a group of otters.
"When I looked at YouTube footage of river otters swimming, they swim like porpoises, diving up and down gracefully and playfully," he said. "This creature swam straight out on the surface, like a fast-propelled log. When it submerged, the whole body sank down at once, rather than the head diving down and a tail sticking up. And I didnít see any feet, just a snakelike body."
Source: Deerfield Valley News | Comments (11)
Tags: Harriman Reservoir, Lake Monster