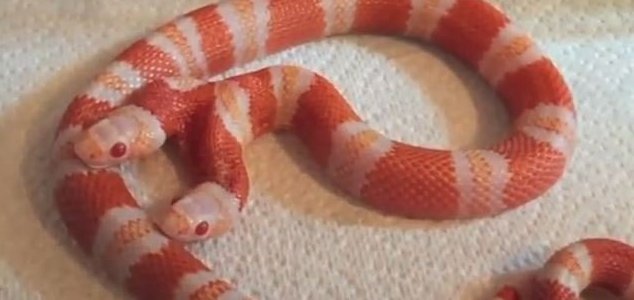 Medusa the two-headed snake.

Image Credit: YouTube / venicebeachfreakshow
Todd Ray forked out $50,000 to obtain an incredibly rare albino Honduran Milk Snake with two heads.
Named 'Medusa' after the Gorgon of Greek mythology, the snake is particularly unusual because unlike many two-headed animals this one actually does have two distinct and separate heads, not two heads melded together in to one.
"I've wanted her since the day it was born four years ago," said Ray, the owner of Venice Beach Freakshow and holder of the world record for owning the most two-headed creatures.
"I went back and forth with the owner and the price just kept getting higher."
When feeding the new snake Ray had to feed each of the heads one at a time to keep them from biting one another. At 3ft long however the unusual reptile can sometimes prove quite a handful.
Those looking to see Medusa first hand can find her at the Venice Beach Freakshow from Saturday.
"I really think she is the star - especially for snakes," said Ray.
Source: Huffington Post | Comments (6)
Similar stories based on this topic:
Tags: Two-Headed, Snake