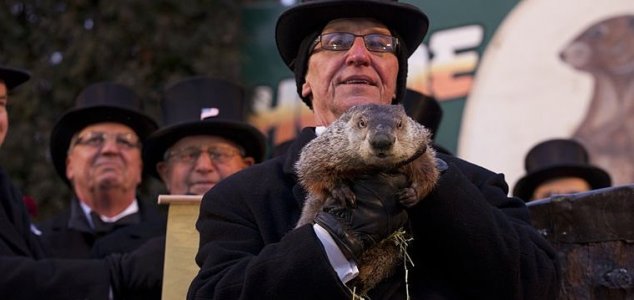 Punxsutawney Phil during the Groundhog Day ceremony.

Image Credit: CC BY-SA 2.0 Anthony Quintano
A cinema in Liverpool showed the classic Bill Murray comedy movie over and over again for 24 hours.
The event, which took place at Liverpool's Small Cinema yesterday, coincided with the actual day that weatherman Phil Connors experiences over and over in the film - Tuesday 2 February.
Cinemagoers were invited along to sit through a 24-hour marathon of the movie - that's a whole twelve back-to-back showings of it - for the price of a single ticket.
"It's a really good film," said one participant. "It seems to be funnier the second time around."
One of the core elements of the movie is Pennsylvania's Groundhog Day festival, a real event that takes place each year to determine whether or not spring will arrive early.
According to the tradition, if the groundhog emerges and sees its own shadow then there will be six more weeks of winter whereas if it sees no shadow then the warmer weather will arrive sooner.
This year Punxsutawney Phil's handlers failed to see his shadow, thus indicating an early spring.
Source: BBC News | Comments (10)
Tags: Groundhog Day