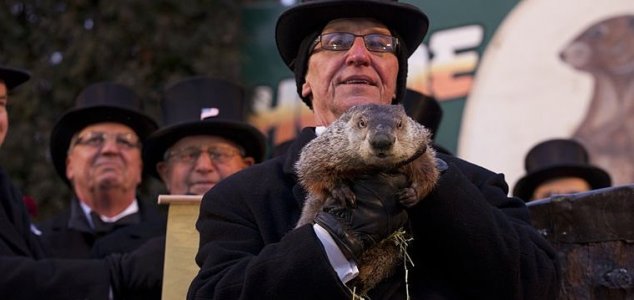 The ceremony has been held every year for over a century.

Image Credit: CC BY-SA 2.0 Anthony Quintano
World-famous groundhog Punxsatawney Phil emerged from his hole in front of crowds of onlookers earlier today.
Despite its unusual premise, the Groundhog Day ceremony, which was heavily featured in the 1993 Bill Murray movie of the same name, is in fact a very real event that continues to be celebrated at the beginning of February each year in Pennsylvania.
Its titular star - Punxsatawney Phil - has been emerging from his hole on Gobbler's Knob every year for 133 years to reveal whether or not there will be six more weeks of winter.
According to tradition, if Phil does not see his shadow, there will be an early spring.
This year's ceremony, which saw a crowd of thousands gather for the groundhog's appearance, was no exception as he was lifted in to the air by the president of the Punxsatawney Groundhog Club.
"Down in my burrow on long winter nights, I listen to tunes to keep my mind right, from Motown to country, to rap, even Bach, there's Aretha and Elvis, yeah The Beatles rock."

"The cheers at the Knob really give me a thrill, everyone singing to the world 'Phil, Phil, Phil'."

"But predicting the weather, that's my song, for 133 years I've never been wrong.So, is it early spring or more winter forecast? Stop the music, here is my forecast:"

"Faithful followers, there is no shadow of me - a beautiful spring it shall be!"
Source: Sky News | Comments (26)
Tags: Groundhog Day