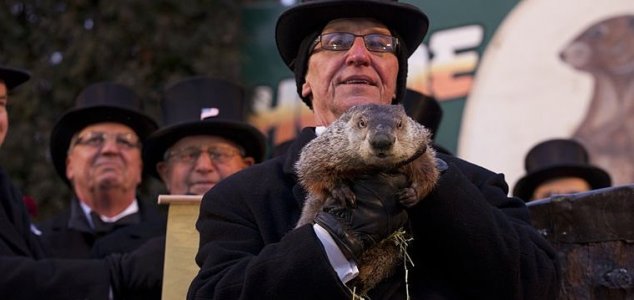 Phil was a lot more optimistic this year.

Image Credit: CC BY-SA 2.0 Anthony Quintano
Crowds gathered in Pennsylvania today for the annual event made famous by the 1993 Bill Murray movie.
Despite its unusual premise, Groundhog Day is in fact a very real event that continues to be celebrated at the beginning of February each year in Pennsylvania.
Its titular star - Punxsatawney Phil - has been emerging from his hole on Gobbler's Knob every year for 134 years to reveal whether or not there will be six more weeks of winter.
According to tradition, if Phil does not see his shadow, there will be an early spring.
For the last four years it has been bad news from Phil, however at this year's ceremony, which took place earlier today, the groundhog reportedly determined that spring would come early.
His prediction follows the news that the original movie's star Bill Murray will be returning for a special appearance in an advert for Jeep that is due to be aired during the Super Bowl later today.
In it, he will be seen alongside the titular groundhog as he relives the nightmare of waking up every morning to find that it's the same day over and over again.
You can check out the ad below.
Source: Sky News | Comments (11)
Tags: Groundhog Day