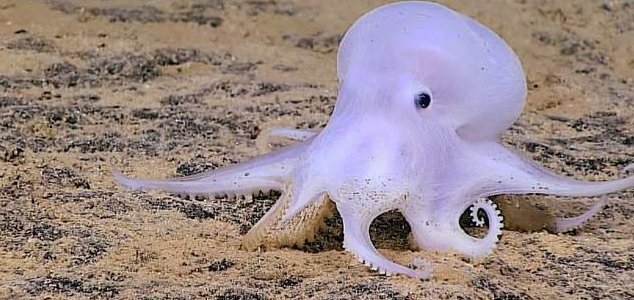 The unique octopus has been nicknamed 'Casper'.

Image Credit: YouTube / oceanexplorergov
The remarkable cephalopod was captured on camera off Hawaii by a remotely operated underwater vehicle.
It is generally believed that we know more about the surface of Mars than we do about what lies at the bottom of our own oceans, yet despite the challenges involved in deep sea exploration, researchers in recent years have been making significant progress in slowly piecing together the strange, alien world that lies deep down beneath the waves.
One such explorer is Michael Vecchione from the Smithsonian Museum in Washington DC who, with the help of a special underwater vehicle, recently discovered a unique species of octopus at a depth of 4290 meters below the surface of the sea near Necker Island in the Hawaiian archipelago.
The ghostly purple cephalopod, which is believed to be a completely new species, can be seen in the video making its way along the sea floor in an eerie, otherworldly fashion.
"The main thing about exploration is that you donít know what you are going to uncover," said Vecchione.
"The more time we spend at deeper depths, or in the deep water column, the more likely we are to come across something unexpected."
Source: New Scientist | Comments (11)
Similar stories based on this topic:
Tags: Octopus