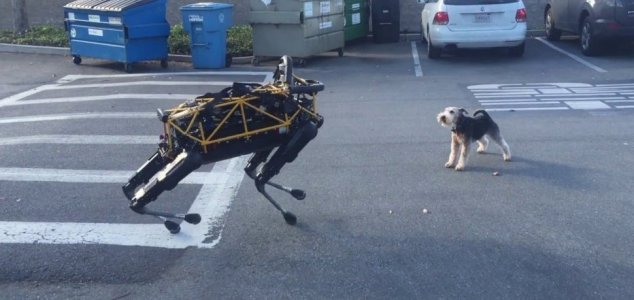 The dog and robot met in an unprecedented confrontation.

Image Credit: YouTube / jurvetson
The realistic four-legged robot met its match when it came face-to-face with its real-life counterpart.
Boston Dynamics has come up with some impressive creations over the years and 'Spot', a quick-moving dog-like robot designed to traverse difficult terrain with ease, is no exception.
But what would happen if the robotic canine was to ever face off against a real dog ?
This was the scenario captured on camera by Steve Jurvetson recently when a civilian operator who had been testing out the robot in a car park came across a rather excitable terrier.
The footage shows the small dog barking profusely at the metal behemoth which, at many times the size of its furry adversary, appeared to have been mistaken for the real thing.
Source: Telegraph | Comments (7)
Tags: Dog, Robot, Boston Dynamics