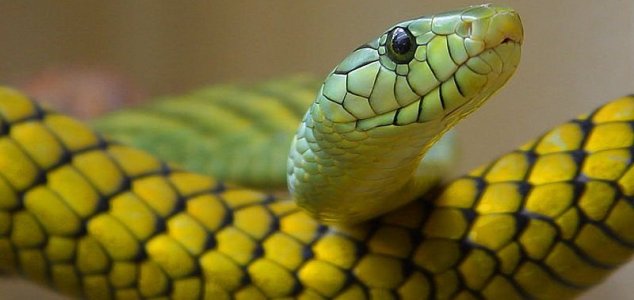 What color were prehistoric snakes ?

Image Credit: PD - Whkoh
Scientists have been able to determine the skin color of a snake that lived over 10 million years ago.
While we know a great deal about the physical characteristics of creatures that roamed the Earth in the distant past, one of the areas we know relatively little about is what color they were.
Most drawings and reconstructions of dinosaurs for instance use colors reminiscent of today's reptiles as there is simply no reliable way to derive their actual colors from their fossil remains.
Now however scientists from University College Cork have discovered preserved cell structures in the fossil of a 10 million-year-old snake that resemble the pigment cells seen in modern snakes.
By comparing the two, the researchers have been able to determine that this particular snake's back was most likely a greenish color combined with blotches of brown-black while its underside exhibited a distinctive pale, creamy shade that ran all the way along its belly.
"Instead of the organic residues of the tissues being fossilized, the entire tissue has been fossilized in mineral," said study lead author and paleobiologist Maria McNamara.
"Up until now, all attempts to reconstruct fossil color have used organic fossils - fossils where soft tissue was preserved as organic residue. Nobody had looked at mineralized fossils before."
Source: Livescience.com | Comments (5)
Tags: Snake, Color