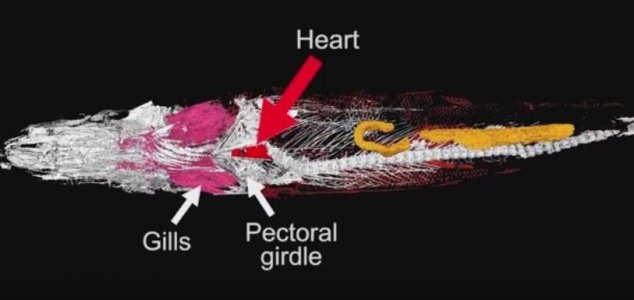 A diagram of Rhacolepis.

Image Credit: YouTube / Cosmos Magazine / Maldanis et al. 2016
The fossil organ was discovered inside the remains of a fish specimen dating back 119 million years.
Finding any sign of preserved soft tissues in a prehistoric animal fossil is a rare thing indeed, but to find the animal's internal organs still intact is something that happens only once in a blue moon.
Now palaeontologists have found something so rare that this is in fact the first time that anyone has ever discovered one - a perfectly preserved fossilized heart unearthed at a formation site in Brazil.
Like most soft tissues the heart does not preserve well so such levels of preservation typically only occur under very specific conditions such as if the animal had been buried in a mudslide.
The remarkable organ, which was found inside the fossil remains of a fish called Rhacolepis, is now offering scientists a rare opportunity to study the evolution of the heart over millions of years.
Source: Phys.org | Comments (7)
Similar stories based on this topic:
Tags: Fish, Fossil, Heart