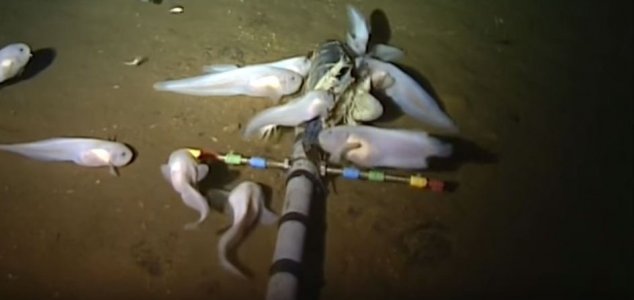 Can any fish live deeper down than this ?

Image Credit: YouTube / University of Washington
A new species of extremely deep-sea snailfish has been found in the depths of the Mariana Trench.
Discovered almost five miles beneath the surface, this ghost-like fish is around twice the length of a cigar and has skin so translucent that it is possible to see its internal organs.
At these depths, the pressure is so extreme that it is like having the equivalent weight of an entire elephant pressing down on every square inch of your entire body.
Below this depth, the pressure becomes so overwhelming that it can even destabilize proteins.
The new species,
Pseudoliparis swirei
, is named after an officer aboard the HMS Challenger which discovered thousands of new species during an expedition in the 1870s.
"We named this fish after him in acknowledgment of the crews that serve on oceanographic research vessels," said Mackenzie Gerringer, a postdoctoral fellow at the University of Washington.
"It takes a lot of people to keep a ship running and we wanted to sincerely thank them."
Source: National Geographic | Comments (11)
Tags: Snailfish, Mariana Trench