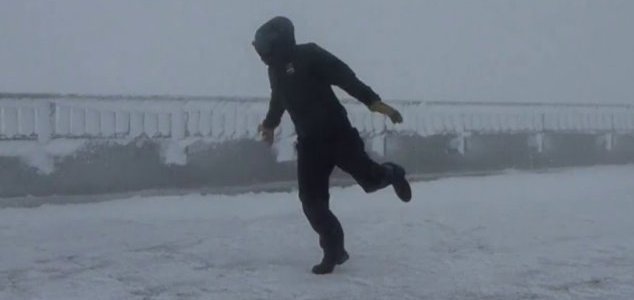 Even standing up is easier said than done.

Image Credit: YouTube / Mount Washington Observatory
A new viral video shows a worker at Mount Washington Observatory being blown around by an extreme gale.
Situated on the tallest peak in the Northeastern United States, this high-altitude weather station is famous for experiencing some of the highest wind speeds ever recorded.
On April 12, 1934, researchers managed to record gusts of up to 231mph - a world record that would endure for most of the 20th century. Even today, wind speeds this high remain unheard of outside of tropical cyclones and other extreme weather phenomena.
Now in a new video, weather Observers Mike Dorfman and Tom Padham managed to capture on film what it is like to walk around in 109mph winds - less than half those of the world record.
The result is both breathtaking and hilarious as one of the pair can be seen struggling to even stay upright and ends up being blown off his feet on more than one occasion.
The video, which has been viewed over 160,000 times, can be viewed below.
Source: Yahoo! News | Comments (8)
Tags: Mount Washington Observatory, Wind