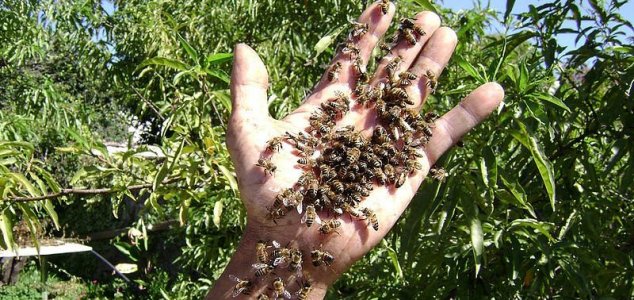 The bees took a particular liking to Mrs Howarth's car.

Image Credit: CC BY-SA 2.0 Hola Mundo
Carol Howarth was shocked to discover that a swarm of 20,000 bees had followed her car all the way home.
The 65-year-old had been driving home from a visit to a nature reserve in Wales when, having parked her car in Haverfordwest town center to do some shopping, she returned to find that her vehicle had become covered in a heaving mass of the insects.
"It was spectacular. I was driving through when I spotted the big brown splodge," said park ranger Tom Moses who stopped to offer his assistance. "A lot of people were really amazed by it, cars were slowing down and people were taking pictures of it."
Eventually Moses, along with two beekeepers he had called in to help, managed to safely remove the creatures from the back of Mrs Howarth's car so that she could get back in and drive home.
Incredibly however, upon awaking the following morning, she discovered that the swarm of bees had followed her all the way back to her house and had once again settled on the back of her car.
"One theory was that the queen was trapped in my car and the swarm were following," she said. "But they couldn't find the queen anywhere so I've no idea if that was right."
This time beekeepers were able to permanently remove the bees without them coming back.
"I have been beekeeping for 30 years and I have never seen a swarm do that," said Roger Burns of Pembrokeshire Beekeepers. "It was quite amusing."
Source: Telegraph | Comments (11)
Tags: Bees