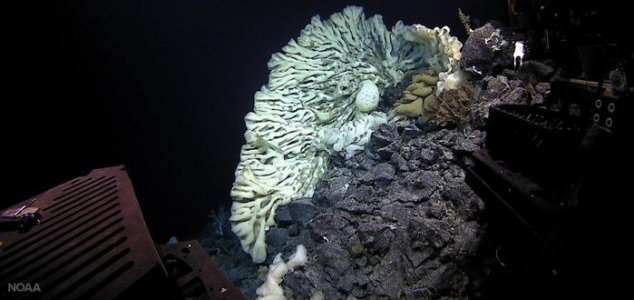 The huge organism is the largest and possibly even the oldest sea sponge ever found.

Image Credit: NOAA
Divers have discovered an ancient, minivan-sized sea sponge in an ocean ridge off the coast of Hawaii.
Found during an expedition of the NOAA's Okeanos Explorer vessel, this enormous organism took researchers completely by surprise when they ran in to it at a depth of around 7,000ft.
The sea sponge is not only remarkable because of its size but also because of its age which is estimated to be in excess of 1,000 years.
"We're going to all these places that we've never been before, going to depths that we haven't been before, so we don't really know what we're going to find," the team wrote.
Footage of the discovery, which was recorded during the expedition, can be viewed below.
Source: ABC News | Comments (4)
Tags: Sea Sponge, Hawaii