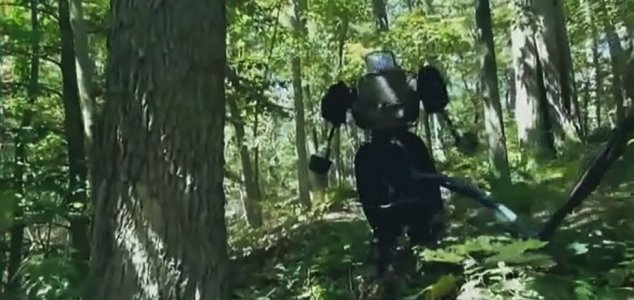 It's not every day you run in to a robot walking through the woods.

Image Credit: YouTube / Boston Dynamics
A woman had been out walking her dog when she came across Boston Dynamics' latest humanoid creation.
Known as Atlus, the robot is one of several different models created by the Google-owned firm.
The footage, which was recorded along a forest trail, shows the human-like contraption stomping through the trees with a large entourage of minders following in close pursuit.
The woman can be seen keeping her dog close as the peculiar procession slowly passes by.
Atlas is one of the company's most sophisticated creations and is capable of traversing various different types of terrain as well as navigating staircases and lifting up heavy objects.
Apparently walking through the woods doesn't seem to pose much of a problem for it either.
Source: Mail Online | Comments (12)
Tags: Robot, Boston Dynamics