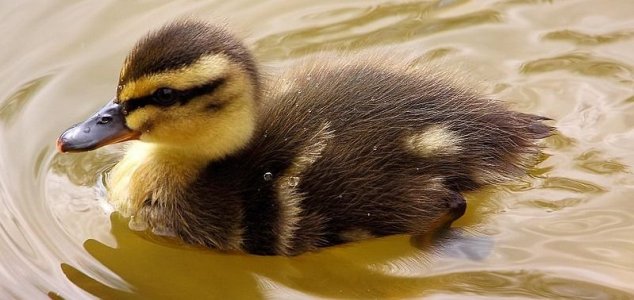 Ducklings are not only cute, they are also quite intelligent.

Image Credit: CC BY-SA 2.0 Tim Felce
Ducks and other birds may possess far greater cognitive abilities than anyone had ever realized.
Ducks might not seem particularly intelligent, but now thanks to a new study by researchers at Oxford University it appears as though these friendly water birds may actually be quite clever.
To learn more, the team exposed hour-old ducklings to different pairs of objects - some of which being identical and some being of a distinctly different shape and color.
The following day the ducklings were exposed to two more objects with the goal being to see which one they gravitated towards the most. The results indicated that they were more likely to go for the object which most closely resembled the original shapes they were shown the day before.
The experiment demonstrates that even at just an hour old, the ducklings could differentiate between objects of different shapes and colors - an ability that is also part of their ability to effectively imprint on to their own mother after they are born.
"Previously we've seen this ability in things like primates and in parrots and in crows – animals that we generally think of as quite intelligent," said Dr Antone Martinho.
"But by seeing it in ducklings, which are only distantly related to parrots and crows, that makes the suggestion that probably a wide variety of vertebrates are going to have this ability."
Source: Inquisitr.com | Comments (7)
Tags: Duck, Brain