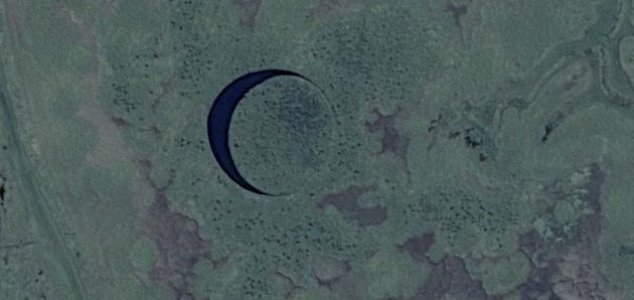 A satellite image of the lake and its mysterious island.

Image Credit: Google Earth
A peculiar circular island nicknamed 'The Eye' has managed to draw a lot of attention in recent weeks.
Situated in the delta of the Parana River near Buenos Aires, this unusual-looking island gives the appearance of floating within a tiny circular lake that is itself only around 120 meters across.
It was discovered by filmmakers working on the pre-production of a new horror movie in the area which is based on real-life accounts of UFOs, ghosts and other paranormal encounters.
The team reached the island after spending eight hours battling their way through the swamps.
"The place was amazing and extremely strange," said filmmaker Sergio Neuspiller. "We discovered that the water is incredibly clear and cold, something totally unusual in the area."
"The bottom is hard, in contrast to the swampy marshes surrounding it. The center parts floats. We don't know over what, but it floats."
The team has since launched a Kickstarter campaign in an effort to investigate the mystery further.
"Basically we have an external perimeter that is constant in time, and it's almost circular, in a flood plain... where things normally change and are muddy," said researcher Pablo Suarez.
"What is going on and why, and what gave origin to this unusual feature ?"
Source: Stuff.co.nz | Comments (23)
Similar stories based on this topic:
Tags: The Eye, Argentina, Island