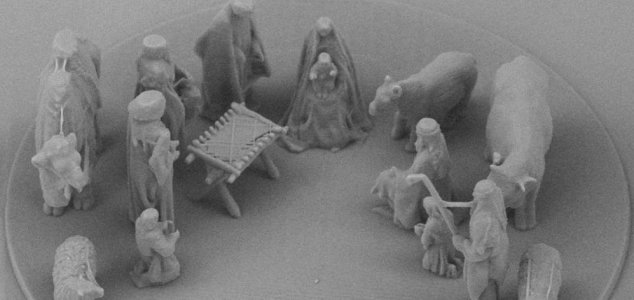 The scene even featured a tiny crib and several animals.

Image Credit: Vilnius Gediminas Technical University
Last year, scientists in Lithuania created a nativity scene that was so small it could fit in to the eye of a needle.
Featuring a nanoscopic Mary, Joseph and baby Jesus, the impressive scene was around 10,000 times smaller than the real thing - that's small enough to sit comfortably on a human eyelash.
It was built over the course of 3 months through a collaboration between Vilnius Gediminas Technical University (VGTU), micro-fabrication company Femtika and 3D-technology company Ideja 3D.
Five copies of the scene were created in total, with one of them being gifted to Pope Francis by Lithuanian President Dalia Grybauskaite.
"I am really proud that Lithuanian scientists and students created the smallest nativity scene in the world," she said, before later writing "the most important things [are] invisible to the naked eye."
Source: CNET.com | Comments (3)
Tags: Nativity