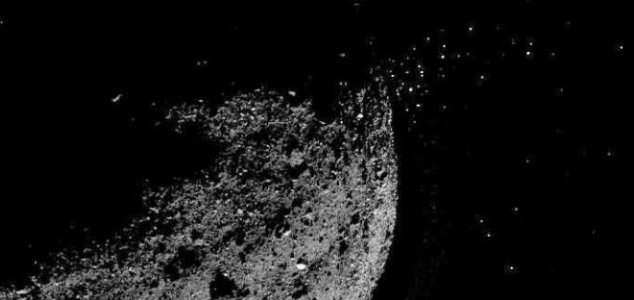 This image shows a plume of dust erupting out in to space.

Image Credit: NASA
Scientists at NASA have revealed that there is a lot more to this unassuming space rock than meets the eye.
Measuring approximately 500 meters in diameter, Bennu has long been of interest to scientists because of its potential to teach us more about the earliest days of the solar system.
It is currently being investigated by NASA's OSIRIS-REx spacecraft which arrived in orbit around Bennu in December last year with the ultimate goal of retrieving a sample for further study.
Now scientists working on the mission have revealed remarkable close-up images showing the asteroid shooting plumes of dust particles out in to space.
Up until now, 'active' asteroids capable of doing this were thought to be extraordinarily rare. Only a dozen or so asteroids out of the 800,000 observed by scientists fall in to this category.
"The discovery of plumes is one of the biggest surprises of my scientific career," said OSIRIS-REx principal investigator Dante Lauretta from the University of Arizona, Tucson.
Another surprise was the discovery that Bennu is littered with rocks (as oppose to having a smooth surface) - something that could complicate efforts to retrieve a sample in the near future.
"The first three months of OSIRIS-REx's up-close investigation of Bennu have reminded us what discovery is all about - surprises, quick thinking, and flexibility," said NASA's Lori Glaze.
"We study asteroids like Bennu to learn about the origin of the solar system. OSIRIS-REx's sample will help us answer some of the biggest questions about where we come from."
Source: Engadget | Comments (1)
Tags: Bennu, Asteroid