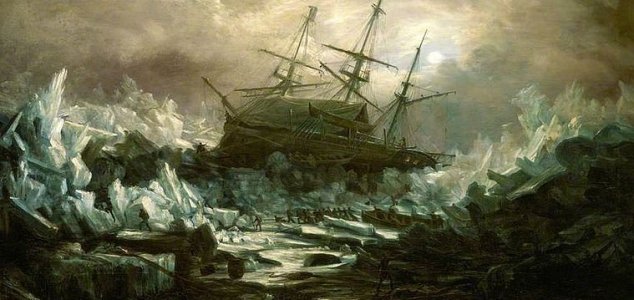 The entire crew of the HMS Terror died after becoming trapped in the ice.

Image Credit: William Smyth R.N.
The mystery of a missing British explorer ship which disappeared in the Arctic in 1845 has been solved.
Under the command of Sir John Franklin, the HMS Terror had originally set out for the Arctic in an attempt to traverse the Northwest Passage, but when the ice turned out to be much thicker than expected the vessel became hopelessly stuck and all 129 men on board ultimately perished.
The final whereabouts of the wreckage had remained something of a mystery for over 170 years, but now The Arctic Research Foundation has revealed that the ship has finally been located 24 meters underwater off the coast of King William Island in the Canadian Arctic Archipelago.
The immaculately preserved wreckage was identified by a small remotely operated vehicle which entered the ship through a hatch and returned detailed images of its interior.
"We have successfully entered the mess hall, worked our way into a few cabins and found the food storage room with plates and one can on the shelves," said operations director Adrian Schimnowski.
"We spotted two wine bottles, tables and empty shelving. Found a desk with open drawers with something in the back corner of the drawer."
Another ship, the HMS Erebus, was also discovered in the same region around two years ago.
There are currently no plans however to raise either of the two vessels from the depths.
Source: The Guardian | Comments (12)
Tags: HMS Terror, Ship