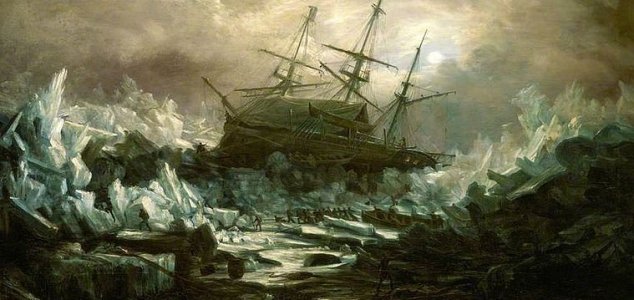 The expedition was doomed to failure.

Image Credit: William Smyth R.N.
Over 175 years on, researchers are still trying to figure out what went wrong during the ill-fated expedition.
Under the command of Sir John Franklin, the HMS Terror and HMS Erebus set out for the Canadian Arctic in 1845 in an attempt to become the first to traverse the Northwest Passage, but when the ice turned out to be much thicker than expected, both vessels became hopelessly stuck.
Unable to escape the ice, the crew were forced to set out on foot, however even this was doomed to failure as the bitter cold proved too much and none of them were ever seen alive again.
The wreckage of the HMS Terror, which had remained lost for over 170 years, was finally located last year 24 meters underwater off the coast of King William Island in the Canadian Arctic Archipelago.
Given that both vessels had been brimming with supplies and were equipped with some of the most modern naval technologies available at that time, it continues to remain unclear exactly why the expedition had gone so catastrophically wrong.
Some researchers speculate that the crew may have succumbed to disease or suffered from lead poisoning from the food tins, while others have blamed poor leadership for the crew's demise.
While planned expeditions to the wreck site have been postponed due to the coronavirus pandemic, it is hoped that exploring the site further could eventually reveal the truth behind what happened.
"If papers on the Erebus and Terror had been kept in sealed boxes or drawers, they may have survived immersion in the very cold, dark waters," said Claire Warrior of the National Maritime Museum in London.
"Diaries or written commands would make the most meaningful difference in terms of understanding what happened. That is what we are hoping will be found."
Source: The Guardian | Comments (6)
Tags: HMS Terror