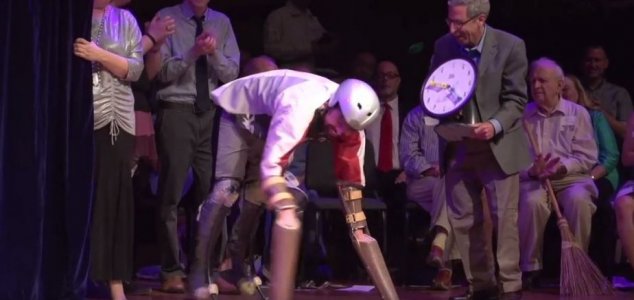 Thomas Thwaites infiltrated a herd of goats.

Image Credit: YouTube / ImprobableResearch
It's time once again to recognize some of the most unique and peculiar research projects ever undertaken.
A parody of the better-known and more prestigious Nobel Prize, the Ig Nobel Prize seeks to offer recognition to those who have contributed to the world of science in more unusual ways.
One of this year's most notable winners was Egyptian urologist Ahmed Shafik who had been studying how wearing trousers might impact the sexual activity of rats.
By donning the rodents in various pairs of tiny pants with a hole cut out for the tail to fit through, he discovered that wearing the garments produced 'significantly lower' rates of sexual activity.
Elsewhere, the economics prize went to a team from New Zealand and the UK who had been studying the personalities of rocks. The peculiar study analyzed the "human characteristics" of various rocks by judging their wholesomeness, youth, intelligence and sophistication.
One of the two winners of the biology award went to Thomas Thwaites, a British researcher who invented a set of unique prosthetic limbs with which he could impersonate goats. He managed to infiltrate a herd of the animals in the Swiss Alps and spent his time bleating and eating grass.
Fellow biology prize winner Charles Foster, by contrast, attempted to live as a badger by eating worms and digging holes in the countryside. He also had a go at living like an urban fox which involved scavenging in dustbins and sleeping in people's gardens.
There was also a prize awarded to a team of German scientists who discovered that if you have an itch on your left side, you can relieve it by looking in the mirror and scratching your right side.
The full ( and equally bizarre ) Ig Nobel Prize award ceremony can be viewed below.
Source: The Guardian | Comments (0)
Tags: Ig Nobel Prize