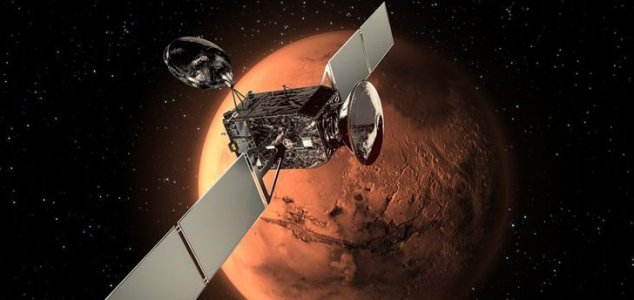 The Schiaparelli lander is now on the surface of Mars.

Image Credit: ESA
The ExoMars mission's lander Schiaparelli has reached Mars but it is unclear whether or not it survived.
Earlier on today, scientists at ESA waited with baited breath as the Schiaparelli lander, having separated from the ExoMars Trace Gas Orbiter, headed down through the planet's atmosphere.
As the minutes ticked by however it became increasingly evident that something was amiss.
While the accompanying orbiter appears to have successfully entered in to orbit around Mars, the Schiaparelli lander remains unaccounted for. The signal, which should have been sent to confirm that the probe had touched down safely on the surface, hasn't been received.
On the plus side, data sent back by the probe during its descent indicated that the parachutes had deployed on its way down so there is still a good chance that it managed to make it in one piece.
It could be that the signal from the probe on the surface simply hasn't been picked up yet.
Update:
Data from NASA's Mars Express orbiter has revealed that the Schiaparelli lander's signal stopped just before it landed. ESA's Paulo Ferri has stated that this is "not a good sign."
As things stand, it does not appear as though the lander survived its descent.
Source: New York Times | Comments (58)
Tags: Schiaparelli, ExoMars