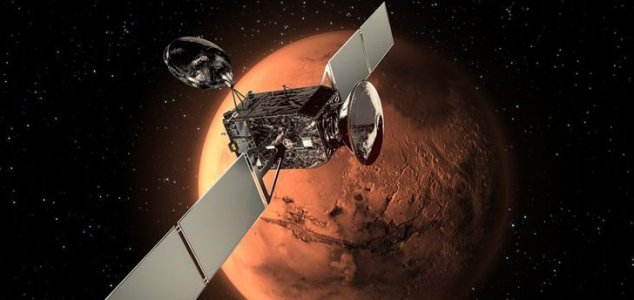 The probe has almost arrived at Mars.

Image Credit: ESA
ESA's two-part ExoMars spacecraft is comprised of both the Trace Gas Orbiter and the Schiaparelli lander.
Having launched back in March and after a journey spanning 310 million miles, ExoMars is set to arrive at the Red Planet on October 16th with its accompanying lander touching down on the 19th.
One of Schiaparelli's main goals will be to test the descent and landing system ahead of ESA's ambitious life-seeking six-wheeled ExoMars Rover which will be launching in 2020.
If all goes well, the probe will also be able to conduct some preliminary experiments of its own on Mars as well as obtaining wind speed, humidity, pressure and temperature measurements.
Meanwhile, the Trace Gas Orbiter will enter in to an elliptical orbit where it will help scientists gain a better understanding of the atmospheric gases present on Mars with an emphasis on learning more about methane and whether it is being produced by biological or geological activity.
One of the main goals of the whole ExoMars project, including the upcoming rover, will be to look for evidence of life on Mars, whether it be past life or something that continues to exist today.
A conceptual video showing Schiaparelli's descent on to the Martian surface can be viewed below.
Source: Belfast Telegraph | Comments (6)
Tags: ExoMars