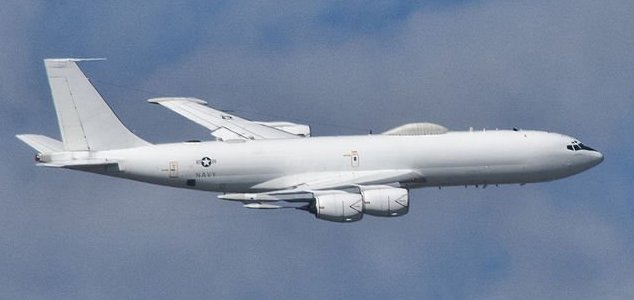 The plane was a Boeing E-6B Mercury.

Image Credit: US Navy
Thousands were left perplexed by the high-altitude aircraft which circled for about an hour on Wednesday.
Local news stations were keen to report on the mystery as the large four-engine plane left long circular contrails across the clear skies above Denver.
It was later tracked heading over Oklahoma before landing at Tinker Air Force Base.
Concerns were raised over the exact nature of its mission above the city after numerous military and aviation authorities, including the Federal Aviation Administration (FAA), the US Strategic Command (STRATCOM) and the North American Aerospace Defense Command (NORAD), refused to offer any information about what it was doing there.
Navy Lt. Leslie Hubbell of the Commander Naval Air Forces however did eventually confirm to
The Denver Channel
on Thursday that the plane was a Navy E-6B Mercury which provides "command, control and communications abilities to direct and employ strategic resources."
Why such an expensive and sophisticated piece of military hardware would have been deployed over such a densely populated area however makes its purpose there even more of a mystery.
The only hint at its intentions comes from an unnamed high-ranking official who allegedly let slip that the plane was "involved in a classified training mission organized by the Department of Defense."
Source: The Denver Channel | Comments (20)
Similar stories based on this topic:
Tags: US Navy, Denver, Plane