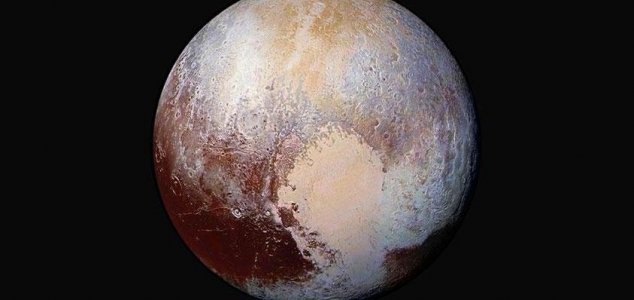 Did a crater filled with water cause Pluto to tip over ?

Image Credit: NASA
It is looking increasingly likely that the dwarf planet is home to a vast subterranean ocean of water.
The latest evidence centers around a heart-shaped feature on Pluto's surface known as Tombaugh Regio which is believed to have been formed by a meteorite impact millions of years ago.
Stretching over 1,000km across Sputnik Planitia - an ice-covered equatorial basin - Pluto's 'heart' has helped scientists learn more about what might be going on underneath the surface.
One of the biggest mysteries surrounding this region is how it came to be facing directly away from Pluto's largest moon Charon - a configuration that is unlikely to have occurred purely by chance.
Now two new research papers have put forward the idea that Pluto may have actually tipped over.
The reason for this, scientists argue, is that slushy water from a subterranean ocean on Pluto may have filled in the crater left behind by the meteorite impact, creating a "positive gravitational anomaly" responsible for rolling the dwarf panet over on to its side.
This vast subterranean sea is thought to be as big as all of Earth's oceans put together.
The cracks observed in Pluto's icy crust also seem to fit in with this hypothesis.
Source: The Guardian | Comments (7)
Similar stories based on this topic:
Tags: Pluto, Ocean