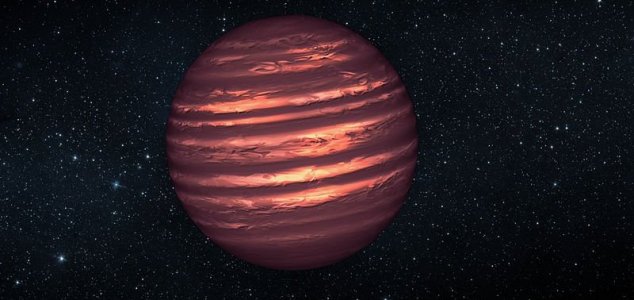 Could brown dwarfs be a good place to look for alien life ?

Image Credit: NASA / JPL-Caltech
Extrasolar planets may not be the only place where it is possible to find signs of extraterrestrial life.
Larger than a planet but of insufficient mass to sustain nuclear fusion, brown dwarf stars don't immediately stand out as particularly promising places to look for alien life.
In the upper atmospheres of these substellar objects however scientists believe there could exist temperatures which may be closer to that of the average living room than to the surface of the Sun.
Back in 1976, Carl Sagan envisaged the idea of a whole ecosystem thriving in the atmosphere of Jupiter. 'Sky plankton' fueled by sunlight, he suggested, could live in the clouds while larger organisms called 'floaters' could stay aloft like balloons without ever needing a solid surface.
Now planetary scientist Jack Yates and his team at the University of Edinburgh have applied Sagan's ideas to brown dwarf stars where the conditions could actually be perfect for such an ecosystem.
The nearest known brown dwarf star, which lies seven light years away, even has water clouds in its atmosphere - so could there really be alien creatures living there ?
While at the moment the idea remains unprovable, in the near future we may actually be able to learn a lot more about brown dwarf stars thanks to the James Webb Space Telescope.
Once it launches, it will be possible to view the weather and atmospheric composition of nearby brown dwarfs and determine from that just how habitable these failed stars may actually be.
"It really opens up the field in terms of the number of objects that we might then think, well, these are habitable regions," said astrobiologist Duncan Forgan.
Source: Science Magazine | Comments (10)
Tags: Brown Dwarf, Life