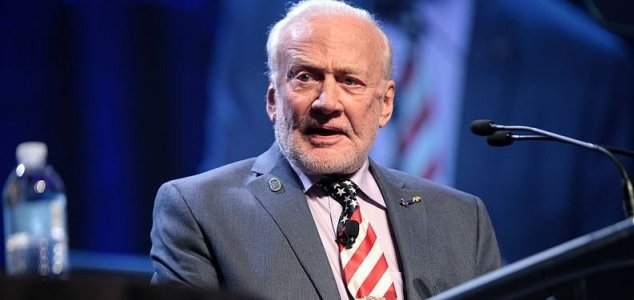 Aldrin speaking at the 2016 Cloud Summit.

Image Credit: CC BY-SA 2.0 Gage Skidmore
The Apollo 11 astronaut fell ill just after becoming the oldest person ever to visit the South Pole.
The 86-year-old had been visiting Antarctica along with his son and his manager so that he could spend time with a group of scientists who were studying what it might be like to live on Mars.
"South Pole here I come !" he had written on his Twitter account just before setting off.
Unfortunately though the legendary astronaut ran into difficulties when he started suffering shortness of breath due to altitude sickness and ended up having to be evacuated.
He has since been recovering at a hospital in New Zealand.
"I had been having a great time with the group at White Desert's camp before we ventured further south," he said. "I started to feel a bit short of breath so the staff decided to check my vitals."
"After some examination they noticed congestion in my lungs and that my oxygen levels were low, which indicated symptoms of altitude sickness."
There was one more surprise in store for Aldrin too as, following a visit from NASA Deputy Administrator Dava Newman, he learned that he had actually made it to the South Pole.
At 86 years of age, this makes him the oldest person ever to go there.
"I'm looking forward to getting home soon to spend Christmas with my family and to continue my quest for a permanent settlement on Mars," he said. "You ain't seen nothing yet !"
Source: Phys.org | Comments (14)
Similar stories based on this topic:
Tags: Buzz Aldrin, South Pole