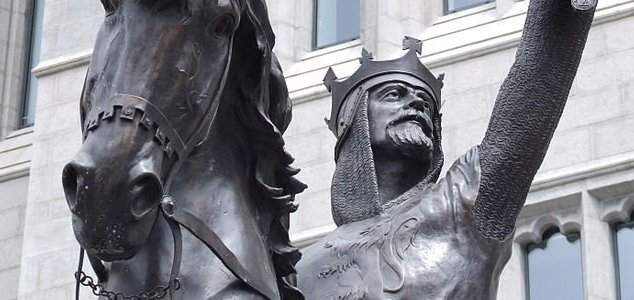 Robert the Bruce was King of Scots from 1306 until 1329.

Image Credit: CC 1.0 L E X commons
Scientists have put together a reconstruction of what the famous Scottish king would have looked like.
Bruce, who famously led the Scots to victory over the English at the Battle of Bannockburn, has been depicted in countless sculptures and paintings over the past 700 years.
None of these however have ever truly represented what he actually looked like.
Now though, researchers at universities in Glasgow and Liverpool have managed to piece together Bruce's true appearance using a cast of his actual skull as a template.
The same technique had been previously used to reconstruct the face of King Richard III.
"Using the skull cast, we could accurately establish the muscle formation from the positions of the skull bones to determine the shape and structure of the face," said Prof Caroline Wilkinson.
Bruce is believed to have died in 1329, one month before his fifty-fifth birthday.
"There is a real sense of character in this face," said project leader Dr Martin Macgregor. "Bruce must have been a remarkable man. All of his achievements suggest this to us."
"There must have been tremendous strength of purpose in this individual as well as many other human virtues - flaws as well."
Source: BBC News | Comments (29)
Tags: Robert the Bruce