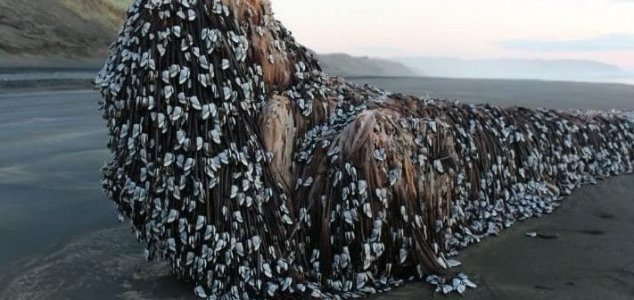 The object was found on Auckland's Muriwai Beach.

Image Credit: Melissa Doubleday / Facebook
A shaggy object covered from top to bottom in barnacles has washed up on Muriwai Beach in Auckland.
The bizarre spectacle was photographed by local resident Melissa Doubleday who posted it up on the
Muriwai & Waimauku Area Community Group
Facebook page to ask for second opinions.
"Just curious to know if anyone knows what this is??! Washed up on Muriwai Beach," she wrote.
The image has since gone viral online with Internet users debating over what it could be. The suggestions so far have ranged from a washed up sea monster to a large piece of driftwood.
"I actually thought it was a washed up whale as I approached it, so weird," said Doubleday. "It looks like worms with shells I've never seen before with these funny creatures just [coming] out."
Source: Telegraph | Comments (24)
Tags: New Zealand, Beach