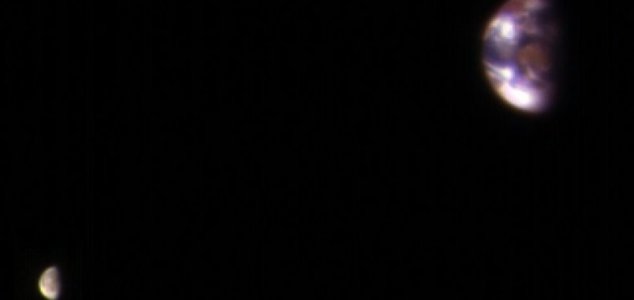 The image, though pixellated, shows our planet in incredible detail given the distance.

Image Credit: NASA
NASA has recently published a stunning new photograph taken by the Mars Reconnaissance Orbiter.
Captured back in November of last year at a distance of 127 million miles, the remarkable shot shows both the Earth and the Moon against the blackness of space.
The image is a composite of two separate photographs that were taken by the probe's High Resolution Imaging Science Experiment (HiRISE) camera as part of its calibration process.
"For presentation, the exposures were processed separately to optimize detail visible on both Earth and the moon," NASA wrote. "The moon is much darker than Earth and would barely be visible if shown at the same brightness scale as Earth."
"The combined view retains the correct positions and sizes of the two bodies relative to each other."
"The distance between Earth and the moon is about 30 times the diameter of Earth."
Source: Engadget | Comments (12)
Tags: Mars, Earth, Moon