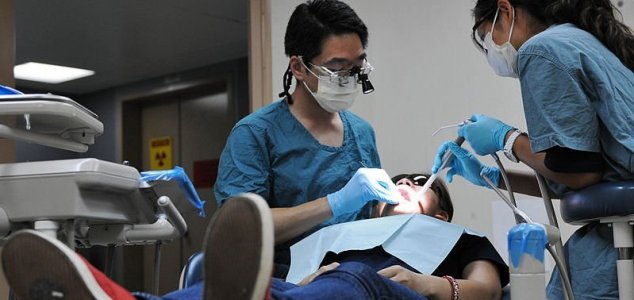 The new discovery could revolutionize the treatment of cavities.

Image Credit: US Navy
Fillings could soon become a thing of the past thanks to a drug that can regrow and repair cavities.
While our teeth are already capable of regenerating new dentine if the pulp becomes exposed due to physical damage or infection, the amount produced is typically very small, making it insufficient to fill the large cavities caused by tooth decay and other common dental problems.
Now though, researchers at King's College London have discovered that an existing Alzheimer's drug called Tideglusib is capable of stimulating the stem cells within the pulp in to producing more dentine by switching off the enzyme GSK-3 which stops it from forming.
The scientists even succeeded in demonstrating this technique by soaking a biodegradable sponge in the drug and inserting it in to the tooth cavity of a volunteer patient.
After about six weeks the sponge had disintegrated and the cavity had completely filled in.
"The simplicity of our approach makes it ideal as a clinical dental product for the natural treatment of large cavities, by providing both pulp protection and restoring dentine," said Professor Paul Sharpe.
"In addition, using a drug that has already been tested in clinical trials for Alzheimer's disease provides a real opportunity to get this dental treatment quickly into clinics."
Source: Telegraph | Comments (20)
Tags: Dentist, Teeth, Fillings