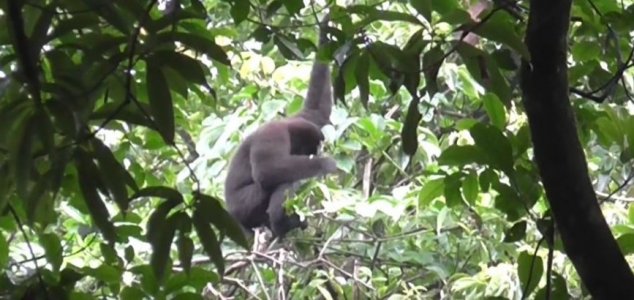 The new species is already critically endangered.

Image Credit: YouTube / Zoological Society of London
Scientists have discovered an entirely new species of primate in a remote Chinese rainforest.
The animal, which had been studied for some time before being recognized as a new species, has been named the
Skywalker hoolock gibbon
- both because its name means "Heaven's movement" when written in Chinese and because its discoverers are major fans of Star Wars.
Its penchant for living in an extremely remote and inaccessible part of China's Gaoligongshan nature reserve however has made it a particularly difficult species to study up close.
"In this area, so many species have declined or gone extinct because of habitat loss, hunting and general human overpopulation," said Dr Sam Turvey from the Zoological Society of London.
"So it's an absolute privilege to see something as special and as rare as a gibbon in a canopy in a Chinese rainforest, and especially when it turns out that the gibbons are actually a new species previously unrecognised by science."
Source: BBC News | Comments (3)
Tags: Gibbon, China