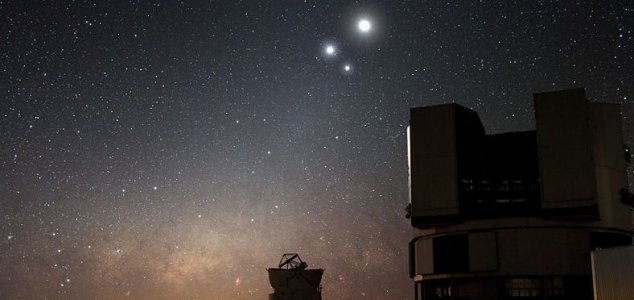 Could there be alien life on a planet in the Alpha Centauri system ?

Image Credit: ESO / Y. Beletsky
The Very Large Telescope (VLT) in Chile will soon be seeking out habitable worlds around Alpha Centauri.
Operated by the European Southern Observatory, the famous ground-based telescope is set to receive a hardware upgrade that will enable it to directly observe the planets in orbit around the stars of Alpha Centauri, our closest neighboring system.
The upgrade, which will take a couple of years to complete, will focus on the telescope's VISIR instrument, an imaging tool capable of observing celestial objects in the mid-infrared.
Being only four light years away, the Alpha Centauri system is a particularly good place to look for extrasolar planets, especially after the discovery of Proxima b - a potentially habitable terrestrial world in orbit around Proxima Centauri - back in August of last year.
"This planet, called Proxima b, is in an orbit that would allow it to have liquid water on its surface, thus raising the question of its habitability," the team at the Marseille Astrophysics Laboratory (CNRS) wrote at the time.
"It is really exciting to have the possibility that there is life just at the gates of our solar system."
Source: The Verge | Comments (1)
Tags: Exoplanet