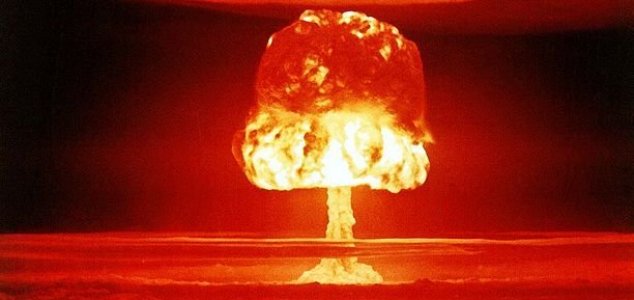 Is the world on the brink of nuclear armageddon ?

Image Credit: US Department of Energy
Scientists have moved the minute hand of the Doomsday Clock to two-and-a-half minutes to midnight.
The symbolic clock, which has been maintained by the Bulletin of the Atomic Scientists since 1947, is a visual representation of how close the world is to disaster based on political and technological threats such as nuclear annihilation and climate change.
Two years ago the time on the clock was altered to show three minutes to midnight - the most precarious position it had been in since the risk of a nuclear conflict during the Cold War.
In 2016 the clock's position remained the same, but now following a further twelve months of uncertainly and political turmoil, the clock has been moved a further 30 seconds forwards.
Rachel Bronson, chief of the Bulletin of the Atomic Scientists (BPA), urged world leaders to "calm rather than stoke tensions that could lead to war" over the coming months.
"Disturbing comments about the use and proliferation of nuclear weapons made by Donald Trump, as well as the expressed disbelief in the overwhelming scientific consensus on climate change by both Trump and several of his cabinet appointees, affected the Board's decision, as did the emergence of strident nationalism worldwide," the BPA wrote.
Other threats, such as that of cyber attacks and terrorism, were also cited as contributing factors.
Source: BBC News | Comments (29)
Similar stories based on this topic:
Tags: Doomsday Clock