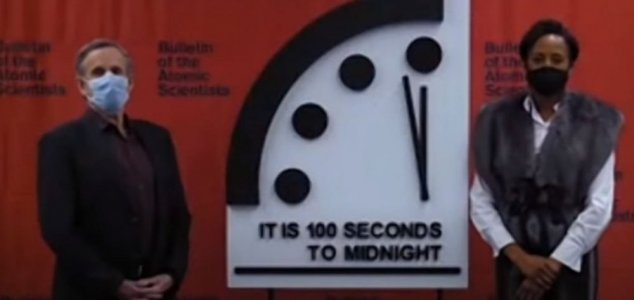 The clock is updated every twelve months.

Image Credit: The Bulletin of the Atomic Scientists
The latest update to the symbolic clock shows that there hasn't been much improvement over the last 12 months.
Maintained by the Bulletin of the Atomic Scientists since 1947, the Doomsday Clock is a visual representation of how close the world is to disaster based on political, environmental and technological threats such as nuclear annihilation and climate change.
When it was last updated twelve months ago, the hands were changed to a mere 100 seconds to midnight - the closest it has been to disaster since the 1950s.
This year, officials have chosen to keep the clock's position the same on the basis that the "world's vulnerability to catastrophe" hasn't really changed that much in the interim.
The scientists cited an increase in online disinformation, political instability in the US, concerns over the control of nuclear weapons and a lack of progress on climate change as major factors.
"The pandemic revealed just how unprepared and unwilling countries and the international system are to handle global emergencies properly," the Bulletin of the Atomic Scientists said in a statement.
There was however positivity surrounding Joe Biden's move to rejoin the Paris Climate Agreement.
"The election of a US president who acknowledges climate change as a profound threat and supports international cooperation and science-based policy puts the world on a better footing to address global problems," the Bulletin stated.
"In the context of a post-pandemic return to relative stability, more such demonstrations of renewed interest in and respect for science and multilateral cooperation could create the basis for a safer and saner world."
Source: The Guardian | Comments (8)
Similar stories based on this topic:
Tags: Doomsday Clock