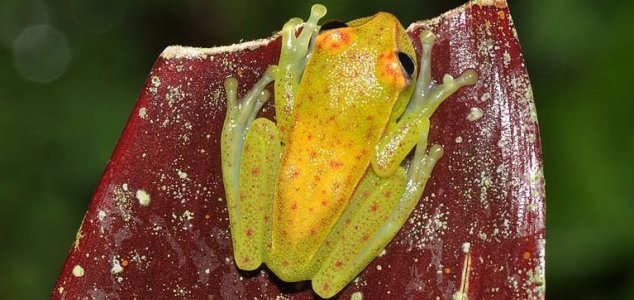 The polka-dot tree frog is native to the Amazon basin.

Image Credit: CC BY-SA 2.0 Pavel Kirillov
Scientists have found that the South American polka-dot tree frog possesses a rather unique complexion.
The frog's unusual skin pigmentation was found entirely by accident by researchers who were studying the species at the Bernardino Rivadavia Natural Sciences Museum in Buenos Aires.
Under normal light the amphibian's skin looks wholly unremarkable, but when it is exposed to an ultra-violet light it suddenly comes alive with a bright fluorescent green glow.
Fluorescence is actually quite rare in land animals and is mostly found in deep-sea creatures.
In this case the particular compound responsible for making the polka-dot tree frog's skin fluorescent had never even been seen before in any vertebrate species.
"This is very different from fluorophores found in other vertebrates, which are usually proteins or polyenic chains," said photochemist Maria Gabriella Lagoria.
The discovery suggests that other amphibians may also possess fluorescent skin as well.
Source: The Guardian | Comments (3)
Tags: Frog