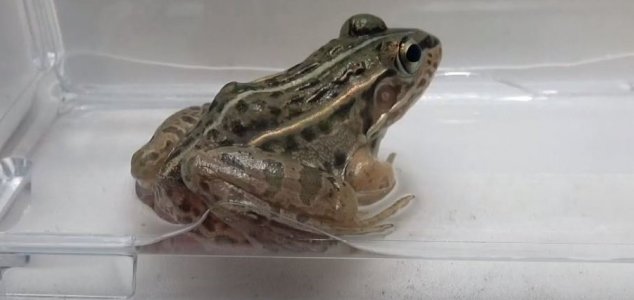 Imagine eating a meal and then this happens...(video below)

Image Credit: Shinji Sugiura
A bizarre experiment has demonstrated how one aquatic beetle can survive being swallowed up by a frog.
Being eaten by a frog would seem to be a death sentence for just about any unfortunate insect, however there is one species that seems to have figured out an ingenious way to escape.
In a recent study at Kobe University in Japan, associate professor Shinji Sugiura discovered that the beetle
Regimbartia attenuata
had developed a unique way to survive being eaten up by the pond frog
Pelophylax nigromaculatus
which happens to share the same aquatic habitat.
Upon being ingested, the adventurous insect is able to make its way through the frog's interior and escape out of the amphibian's anus - a literal back door escape act.
During the experiment, the beetles were filmed escaping the frog's posterior 93% of the time.
The researchers tried feeding other types of beetles to the frog but they were not so lucky. Somehow only this one particular species seems to have perfected this unauthodox escape route.
"This study is the first to document active prey escape from the vent of a predator and to show that prey may promote predator defecation to hasten escape from inside the predator's body," wrote Sugiura.
Source: Live Science | Comments (4)
Similar stories based on this topic:
Tags: Frog, Beetle