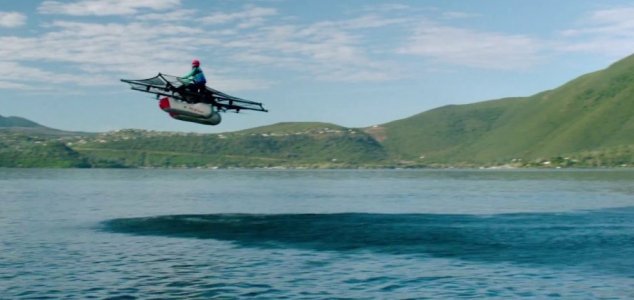 The Kitty Hawk Flyer operates over water.

Image Credit: YouTube / Kitty Hawk
The company behind the futuristic aerial vehicle was financially backed by Google founder Larry Page.
The video, which is the first to feature a working prototype of the Kitty Hawk Flyer, shows an enthusiastic aviator flying the vehicle over a lake to meet up with a group of friends in a boat.
Described as an "all-electric aircraft", the vehicle is only able to operate over water but doen't require a pilot's license to operate because it falls under the "ultralight" FAA category.
According to the company, a consumer version of the Kitty Hawk Flyer will be available to purchase before the end of the year however it remains unclear exactly how much it will cost.
Those particularly keen to get their hands on one though can sign up for a $100 membership that will net them priority placement on the waiting list and a $2,000 discount.
Source: The Verge | Comments (22)
Tags: Kitty Hawk, Flying Car