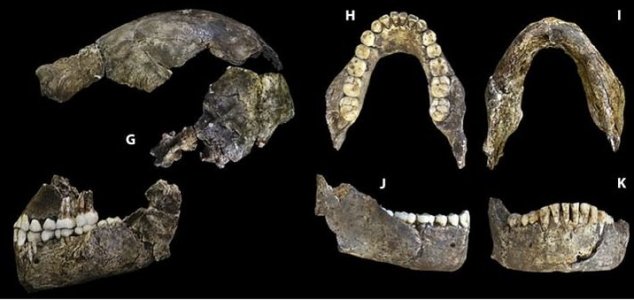 Some of the Homo naledi remains found in the cave.

Image Credit: CC BY 4.0 Berger et al
Researchers have unveiled details of their latest findings at an important cave site in South Africa.
When its discovery was first revealed back in 2015, Homo naledi was big news. The bones from a total of 15 individuals had been found inside a cave near Johannesburg, South Africa, alongside thousands of bone fragments - the largest number ever found at a single site.
Now scientists have revealed even more discoveries at the site, including the remains of three additional individuals found inside a part of the cave known as the Lesedi Chamber.
One of these, for which a particularly large number of bone fragments have been identified, has been nicknamed 'Neo' and is the most complete Homo naledi skeleton ever found.
"It's one of the greatest fossil finds of the 21st century in its own right," said researcher Lee Berger.
Standing around 1.4 meters tall and weighing 40kg, Neo was seemingly much smaller than scientists had originally proposed.
The species now adds to a growing number of early human ancestors found in the region.
"Here in southern Africa, in this time range, you have the Florisbad skull, which may be an ancestor or close relative of modern humans," said Prof John Hawks of the University of Wisconsin-Madison.
"You've got the Kabwe skull, which is some kind of archaic human and possibly quite divergent; you've got evidence from modern people's genomes that archaic lineages have been contributing to modern populations and may have existed until quite recently. You have this very primitive form of Homo [naledi] that has survived alongside these other species for a million years or more."
"It is amazing the diversity that we are now seeing that we had missed before."
Source: BBC News | Comments (5)
Tags: Humans, Homo naledi