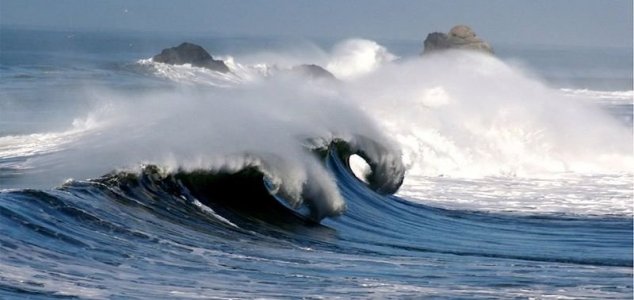 Rogue waves can appear out of nowhere.

Image Credit: CC BY-SA 4.0 Brocken Inaglory
Recent research has shown that massive waves can appear out of the blue with surprising regularity.
For centuries, mariners have told tales of ships being swallowed up by enormous waves that can rise up out of nowhere before disappearing again just as quickly.
Until relatively recently these accounts were generally dismissed as mere tales, but in the 1950s the idea started to be taken more seriously after scientists suggested that it was actually possible for such waves to occur, albeit once every 30,000 years or so.
In December 1978 however, a distress call was picked up from a German cargo ship in the mid-Atlantic. The ship itself was never found, but it seemed that something unexpected had befallen it.
By analyzing the damage sustained by one of the vessel's lifeboats, scientists determined that the ship had been struck by an extreme force - most likely due to a collision with a huge wave.
Then in 1995, the Draupner oil platform off the coast of Norway, which had been subjected to hurricane winds, was unexpectedly struck by an enormous 26-meter wave.
The final nail in the coffin for any remaining skepticism concerning rogue waves occurred in 2003 when scientists at the European Union's MAXWAVE project studied thousands of satellite images over a 3-week period and found at least 10 waves exceeding 25 meters in height.
Rogue waves, it seems, are neither fictional nor rare and actually occur with alarming regularity.
Source: BBC.com | Comments (9)
Tags: Rogue Waves