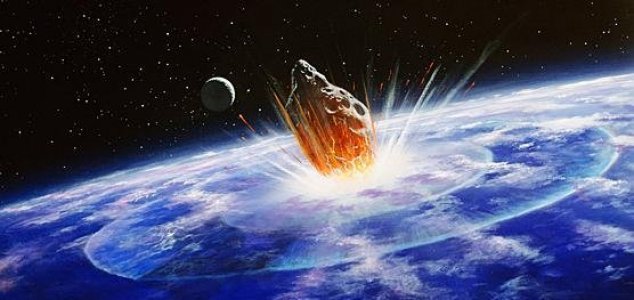 Things may have been different if the asteroid had struck elsewhere.

Image Credit: NASA
Scientists have been drilling in to the crater left behind by the asteroid that wiped out the dinosaurs.
Rock samples recovered from beneath the Gulf of Mexico have revealed that it was perhaps not so much the size or speed of the asteroid that doomed the dinosaurs but the location at which it struck.
At the time, the area was covered in a shallow sea which meant that the impact sent huge amounts of sulphur up in to the atmosphere, extending how long the planet was trapped in a global winter.
Tragically, it is possible that the dinosaurs might have survived if the asteroid had hit elsewhere.
"Had the asteroid struck a few moments earlier or later, rather than hitting shallow coastal waters it might have hit deep ocean," said TV presenter Ben Garrod.
"An impact in the nearby Atlantic or Pacific oceans would have meant much less vaporised rock - including the deadly gypsum. The cloud would have been less dense and sunlight could still have reached the planet's surface, meaning what happened next might have been avoided."
"In this cold, dark world food ran out of the oceans within a week and shortly after on land. With nothing to eat anywhere on the planet, the mighty dinosaurs stood little chance of survival."
A documentary about the discovery, 'The Day The Dinosaurs Died', is due to air in the UK on BBC Two tonight at 21:00. It will also be available to watch on BBC iPlayer afterwards.
Source: BBC News | Comments (6)
Similar stories based on this topic:
Tags: Dinosaur, Asteroid