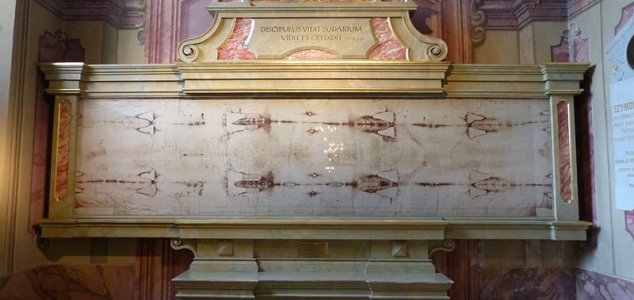 Whose blood is on the shroud ?

Image Credit: CC 3.0 Mogadir
A new analysis of the world-famous relic has allegedly revealed traces of blood from a torture victim.
The mysterious Turin Shroud, which is believed by many to be the actual burial cloth of Jesus himself, has long been the subject of intense scrutiny, controversy and debate.
Now following a thorough forensic examination of the cloth, researchers in Italy claim to have discovered traces of human blood within its fibers.
Not only that, but a scientific analysis of these blood particles has suggested that the individual in question had likely been subjected to a prolonged period of physical torture before they died.
"Hence, the presence of these biological nanoparticles found during our experiments point to a violent death for the man wrapped in the Turin Shroud," said University of Padua professor Giulio Fanti.
The discovery has reignited debate over the true origins and authenticity of the shroud which for years has divided scientists and theologians alike. Some believe the relic to be a medieval forgery while others are convinced that it is genuine and that it dates back 2,000 years.
But could the presence of blood on the shroud really point to it being the actual burial cloth of Jesus ?
Given that the shroud has been moved around a lot over the centuries, even if there really is someone's blood on it, there is no guarantee that it has actually been there all along.
For all we know, the blood is from a monk or priest who handled the shroud relatively recently.
Source: Christian Post | Comments (113)
Tags: Shroud of Turin