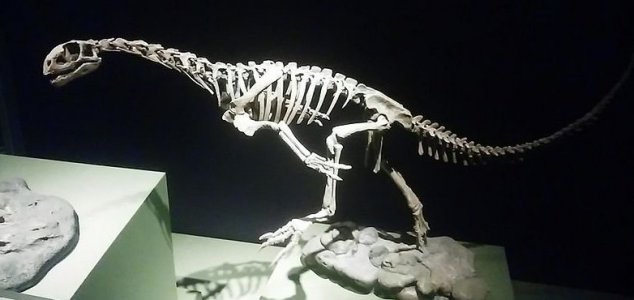 The Chilesaurus skeleton.

Image Credit: CC BY-SA 4.0 Machairo
The mystery surrounding a dinosaur made up of various mismatched body parts has finally been solved.
Officially named Chilesaurus, this unusual specimen, which was discovered in South America, has long remained something of an enigma. Unlike other dinosaurs, its skeleton appears to consist of elements borrowed from other species, earning it the nickname 'Frankenstein dinosaur'.
Now though, following a new study by PhD student Matthew Baron from Cambridge University, this unusual animal has finally been identified as the missing link between plant-eating dinosaurs and carnivorous dinosaurs and is one of the first members of a group known as the ornithischians.
"Now that we think ornithischians and meat-eating dinosaurs such as Tyrannosaurus are related, Chilesaurus slots exactly in between the two groups," said Baron.
"It is a perfect half-and-half mix. So, suddenly in the new tree it makes a whole lot of sense."
The discovery is helping to shed light on how the different groups of dinosaurs originally split from one another as well as how they evolved separately down different paths.
"Chilesaurus is there at the beginning of one of these big splits and hopefully by understanding more about its biology it will tell us what the driving factors might have been," said Prof Paul Barrett.
Source: BBC News | Comments (0)
Tags: Dinosaur, Chilesaurus