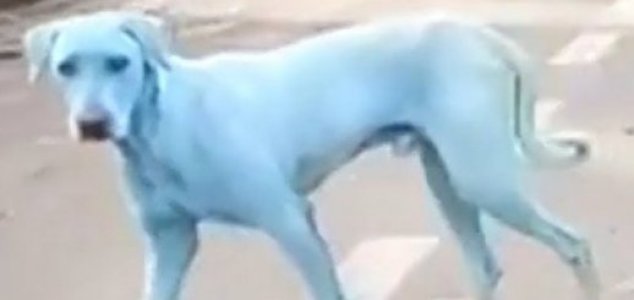 The water is filled with dyes and other chemicals.

Image Credit: YouTube / Business Insider / Hindustan Times
Untreated industrial waste in Mumbai's Kasadi river has been turning dogs a rather peculiar color.
A stray dog near Navi Mumbai's Taloja industrial area has recently been spotted roaming the streets with its fur sporting a rather disconcerting shade of blue thanks to chemical dyes in the nearby river.
The bright blue canine is just one of several animals to have been similarly affected in recent months by river water with pollution levels that have been found to be 13 times beyond the safe limit.
"It was shocking to see how the dog's white fur had turned completely blue," said Arati Chauhan, member of a local animal protection group. "We have spotted almost five such dogs here and have asked the pollution control board to act against such industries."
With over 1,000 pharmaceutical, food and engineering factories in the general area however, keeping the rivers free of pollution is likely to be a task of monumental proportions.
Source: Hindustan Times | Comments (16)
Tags: India, River