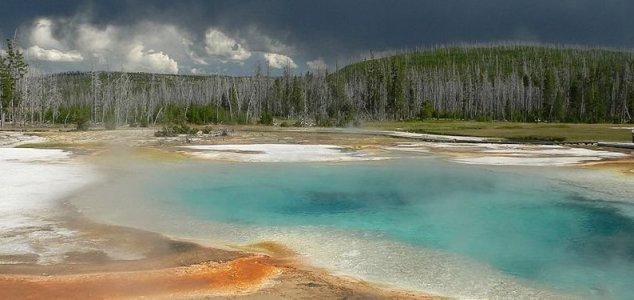 Can the heat of the supervolcano be harnessed ?

Image Credit: CC BY-SA 3.0 David Monniaux
NASA has come up with an ambitious new plan to cool down the supervolcano by using it as an energy source.
The natural beauty of Yellowstone National Park attracts thousands of tourists each year, but not far below the surface is an increasingly large chamber of molten hot magma that could erupt at any time.
Containing as much as 200-600 cubic km of molten rock, this vast subterranean cavern is part of one of the largest known supervolcanoes. When it erupts, it will cause untold devastation across hundreds of square miles and impact the climate on a global level.
Now in a renewed bid to stop this from ever happening, scientists at NASA have come up with an ambitious plan to turn the supervolcano in to a near limitless source of geothermal energy.
To do this, a hole would need to be drilled in to the side of the volcano so that water can be pumped through. When this water comes back out, it will be superheated to over 600 degrees.
It might take hundreds or even thousands of years, but if this is done enough times the volcano will slowly cool down until it reaches the point at which it no longer poses a threat.
With the time left before an eruption ticking away, NASA is hoping to implement the plan soon.
If it works, it could provide enough energy to power the entire region for centuries to come.
Source: Popular Mechanics | Comments (18)
Tags: Supervolcano, Yellowstone