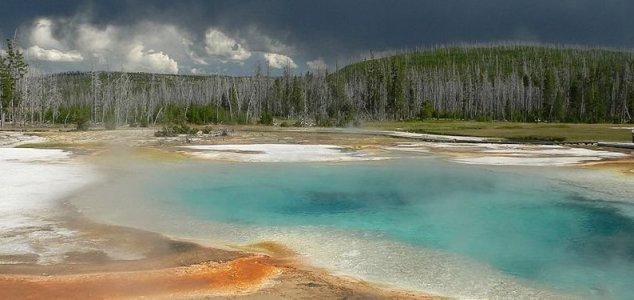 Yellowstone National Park.

Image Credit: CC BY-SA 3.0 David Monniaux
In the event of an eruption the volcano could spew out 2,000 times the debris of Mount Saint Helen's.
The largest known active volcano in the world, the Yellowstone Caldera has gained a lot of media attention in recent years after it was revealed that this sleeping giant had the potential to erupt at any time and cause untold devastation across hundreds of square miles.
The threat might not be quite as great as it seems however - according to researchers from the University of Wyoming the volcano may be slowly dying. This conclusion was reached by analyzing samples of air and water from across Yellowstone to assess how they mix as gases rise from the ground.
The last known eruption took place 70,000 years ago but was a lot smaller than eruptions prior to that and many of Yellowstone's trademark geysers and hot springs have been helping to dissipate some of the energy building up below the surface.
While the research team was keen to emphasize that the volcano is still very much alive, chances are good that we won't see a catastrophic eruption at any time in the foreseeable future.
Source: Tech Times | Comments (42)
Tags: Supervolcano, Yellowstone