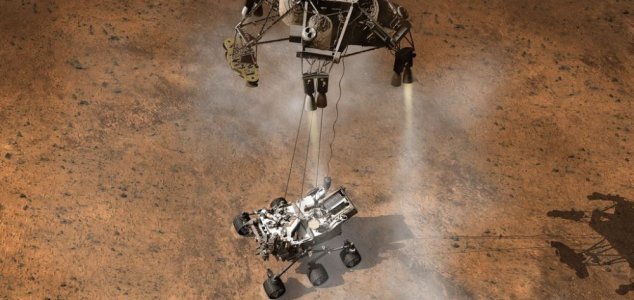 Mars 2020 will be very similar to Curiosity.

Image Credit: NASA/JPL-Caltech
Two upcoming Mars rover missions will attempt to determine if the Red Planet was once home to life.
Mars will see two new visitors heading in its direction in 2020, ESA's ExoMars rover and NASA's Mars 2020 rover. Both will be bringing along arrays of sophisticated instrumentation designed to establish whether or not the planet was ever home to extraterrestrial life.
NASA's new rover will also be gathering rock samples and leaving them inside sealed titanium tubes so that a future mission can retrieve them and take them back to Earth for further study.
"Mars 2020 represents a crucial first step towards a possible Mars sample return," said Dr Ken Williford. "Our objective is to collect a diverse set of samples from our landing site with the best potential to preserve records of the evolution of Mars - including the presence of life if it was there."
"We'll use our onboard instruments to provide the critical field context that future scientists would need to understand the measurements made back on Earth."
ExoMars, meanwhile, will be carrying with it what is known as the "Pasteur analytical laboratory", a set of instruments with which it will scour the surface of Mars for ancient biosignatures.
It goes without saying that if either mission actually does manage to find evidence of ancient alien life on Mars, it will be one of the most significant scientific discoveries of all time.
Source: Sky News | Comments (4)
Tags: Mars, Life